Apollo

The APOLLO GAMES system has always been based on combining the latest mathematical algorithms and advanced graphical scenarios. Thanks to the experience and knowledge of specific standards that vary from region to region, the Apollo VLT system provides some of the best products on the market today.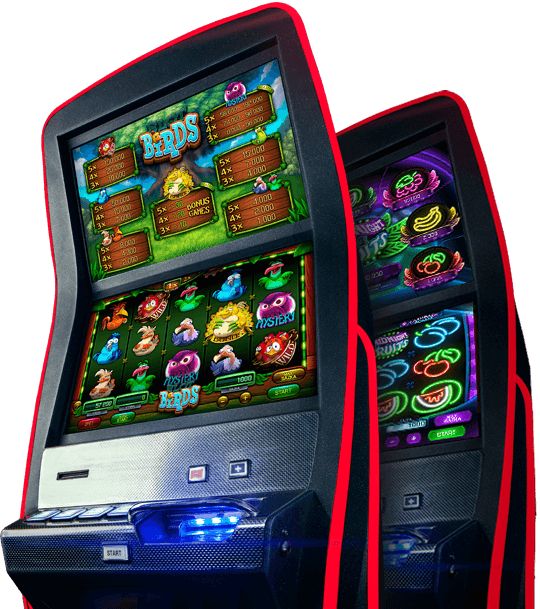 APOLLO NEOS is currently the best-selling VLT terminal. It attracts attention by its appealing appearance enhanced by the quality of used materials. Thanks to the neon light line, it attracts attention in any environment. The futuristically shaped metal cabinet hides the most popular games that are configured to fit your needs and wishes. The NEOS terminal will be appreciated by demanding players requiring high quality and maximum gaming comfort.
Metal Cabinet
23" LCD Monitors (16:9 aspect ratio)
UBA-10-SS Bill Acceptor
NRI G-13 Coin Validator
Nippon NP-K2042D Printer
In-depth Speaker
400W ATX Source
LED Neon Backlight
Cashbox
SAS Protocol Support
APOLLO CLASSIC can be compared to the best machines on the VLT terminal market. VLT Classic's key features include years of proven and still modern cabinet design, robust and high-quality manufacturing with elegant chrome elements, 23-inch LED monitors with proven technology, and enabling the connection to a three-level jackpot.



Metal Cabinet
23"LED Monitors (16:9 aspect ratio)
UBA 10-SS Bill Acceptor
NRI G13 Coin Validator
Nippon NP - K2042D-M00 Printer
Subwoofer
400W ATX Source
Cashbox
SAS Protocol Support
THE LATEST SOFTWARE AND A WIDE SELECTION OF GAMES
Apollo games attract their fans primarily by emphasizing the entertainment, sophisticated game logic, and recently their detailed graphics. Each game must be an original, which presents a challenge for the development team in terms of proposing a new theme and game logic. You can learn more about the latest Apollo games ZDE!